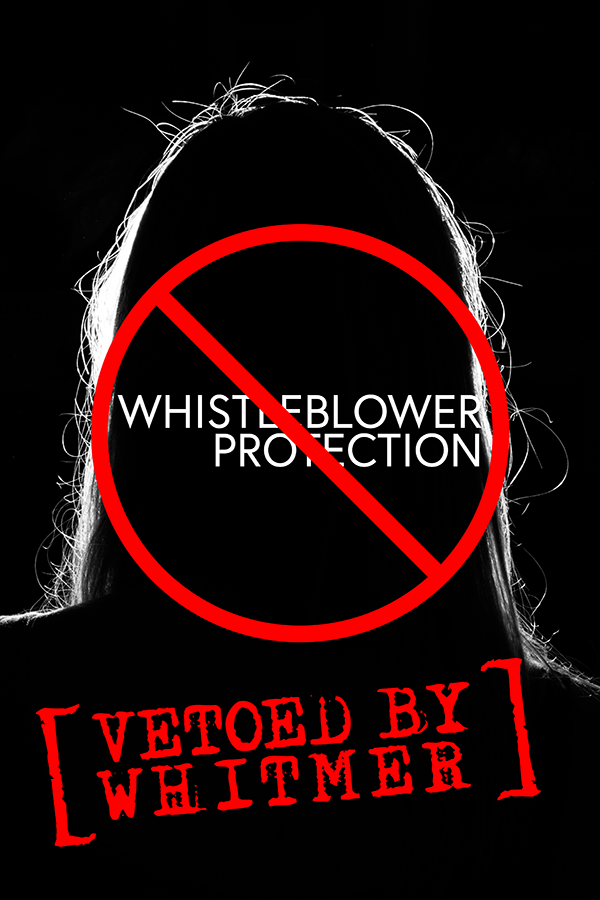 This is a bombshell that's gone almost entirely unreported in all the coverage spilling out of Governor Gretchen Whitmer's use of the veto pen to eliminate $13 million for county sheriffs to patrol local roads, strip $35 million from public charter schools serving minority students and low-income families, and perhaps most ridiculously, reduce road funding by $375 million after spending two years grandstanding about "Fixing the Damn Roads". Apparently, what she really meant was "Raise the Damn Taxes"!
Buried among the Governor's 147 line-item vetoes in the state budget was a shocking and appalling move to greatly reduce government transparency and threaten whistleblowers in state Government.

Whitmer vetoed a section in each of the Department budgets that reads:
"A department or state agency shall not take disciplinary action against an employee for communicating with a member of the legislature or his or her staff."
She vetoed the same provision in 13 budgets. That's every last one of the state's non-school budgets. She vetoed whistleblower protections 13 times. 13. Times.
The boilerplate language eliminated by Whitmer is designed to protect whistleblowers in state government who may seek to expose government malfeasance, bad behavior, abuse of taxpayer funds, or any number of other troubling behaviors inside state departments.
It was written and approved by Republicans and Democrats in the legislature who champion government transparency, and has been part of the budget language since at least 2003!
Not surprisingly, her move to draw the curtains on any potential bad behavior inside her own departments didn't make the Governor's list of talking points.
It's a potentially devastating move for integrity in state government. And it begs a pair of questions. What's the Governor worried about? Or what's she trying to hide?
Sincerely,
Fox News:
Union Bigwigs Helping Embezzlement Investigation into UAW President Gary Jones: Report
"

Two former United Auto Workers bigwigs are cooperating with a federal investigation into union president Gary Jones for embezzlement, The Detroit News reported on Thursday, citing federal court records and six sources familiar with the investigation.

"
"It was Whitmer who failed to do what was required of her. She walked away from the bargaining table three weeks ago and hasn't engaged since with the Republicans who control the Legislature, and who, by the way, were also elected by Michigan voters with certain expectations.

 

"Rather than negotiate, the governor retreated to her office to hurl insults at GOP lawmakers."
Capitol Confidential:
Whitmer Vetoes Funding Hike for Schools that Enroll More Poor Kids
"Gov. Gretchen Whitmer has vetoed a $240 per-pupil increase in state funding for public charter schools, according to the Michigan Association of Public School Academies. The same $240 increase was left in place for conventional district schools."
Do you like this post?